Developed by A.A founders Bill Wilson & Dr. Bob, the 12 Steps are a program of recovery designed to help individuals suffering from alcoholism. The steps were developed to help A.A. members attain long-lasting sobriety.
The 12 Steps are called a program of action; members of A.A. work through each of the steps using a Sponsor as their guide. Sponsorship is a vital part of working the steps.
A.A. is a spiritual program in which members work to attain spiritual progress and personal growth. Many non-religious people have found the program immensely helpful, because it offers a choice.  A.A. members can choose a God or Higher Power of their personal understanding. Click here to read an A.A. pamphlet about Spirituality.
Click below to read The 12 Steps and the 12 Traditions:
---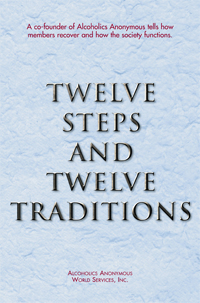 The book  "Twelve and Twelve" contains 12 essays by the co-founder of A.A., Bill W.
They expand upon each of the Steps with helpful examples and personal insight.
The 12 Traditions of AA address Alcoholics Anonymous and its members as an entire body. They're the guidelines that inform the direction and operating procedures of the AA organization, and they help ensure continuity and unity among all of the member groups worldwide.